History of Extracorporeal Shock Wave Lithotripter
The first generation (G1) ESWL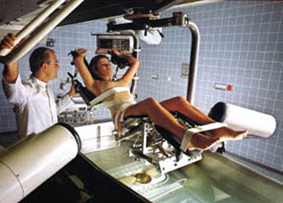 The first generation (G1) ESWL uses positive and negative electrode rod to discharge in water to have spark and generate shock wave. The shock wave is then deflected by oval shape steel bowl to focus at a fixed focal point, and when the focal point is focused on the kidney stone; the focused shockwave applies energy on the stone and break it. After thousands times of hitting, the stone will be pulverized. This is called Electrohydraulic Shock Wave Generator.
The second generation (G2) ESWL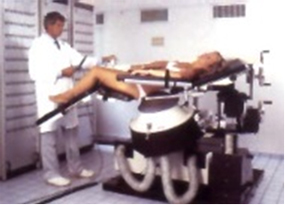 The second generation (G2) ESWL is of dry treatment. Patient does not need to immerse in water tank, but with water cushion fit to skin and the water blade transmit the focused shockwave into body and penetrates through skin to attain the purpose of breaking stone. In this manner, the inconvenience of pre-treatment preparation is reduced greatly, and ESWL techniques become widely applied on treatment of urine duct calculus. Unfortunately, the result of treatment (Stone Clearing Rate) is no better than G1 ESWL. In order to reduce the X-ray radiation dosage, G2 ESWL offers also ultrasound localization model, an option to X-ray localization. G2 machines are placed inside surgery room mostly and patient needs general anesthesia or local anesthesia.
The third generation (G3) ESWL
The third generation (G3) ESWL kept the advantage of G2 dry type treatment and improvement is mainly shock wave and convenience of localization for increasing treatment effect. There are many different type of shock wage generation manner, such as Electromagnetic, Piezoelectric and Electroconductive. Efforts are concentrating on stability of shock wave and the pains felt by patient during the process of treatment. In addition, localization manner is in X-ray and Ultrasound Dual Localization. The mechanism design helps stone localization faster. Treatment with G3 ESWL, patient needs no anesthesia but pain killer only. The treatment time is also reduced greatly; it can be done in OPD. Academic reports indicated that the treatment effect is much better than G2 ESWL.